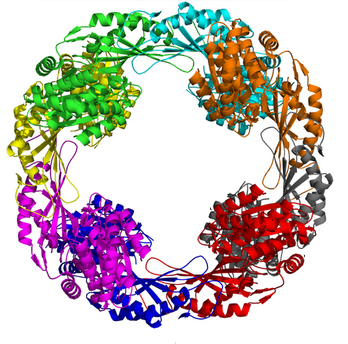 In fertile farm soils where potatoes grow, Streptomyces scabies bacteria wage war using chemicals related to explosives and pesticides.
But a microbial spoiler defuses one of S. scabies' poisons. Researchers at the Georgia Institute of Technology using high-brightness x-rays from the U.S. Department of Energy's Advanced Photon Source (APS) have gained new insights into a one-of-a-kind mechanism the microbe employs, which could someday contribute to the development of new agents to degrade tough pollutants and help rescue crops.
When S. scabies infects potatoes, it spews poisons called thaxtomins, which riddle potatoes with familiar dark scabs. Perhaps a trifle to the potato connoisseur excising them with a paring knife, but on a global scale, the blemishes add up to a slash in agricultural production.
Scientists investigating potato soil have found bacteria of the species Bradyrhizobium sp. JS329 running interference. Though their tough enzymes don't break down thaxtomins, they do render innocuous another S. scabies toxic secretion called 5- nitroanthranilic acid (5-NAA).
Still, understanding how 5-NAA is broken down could prove useful to agriculture. "The 5NAA molecule is similar enough to thaxtomin that studying its degradation might inspire future work to engineer an enzyme or bacterium, or …
more ...